Cloud Infrastructure for Healthcare Organizations
Healthcare systems are embracing cloud environments to meet growing data and security needs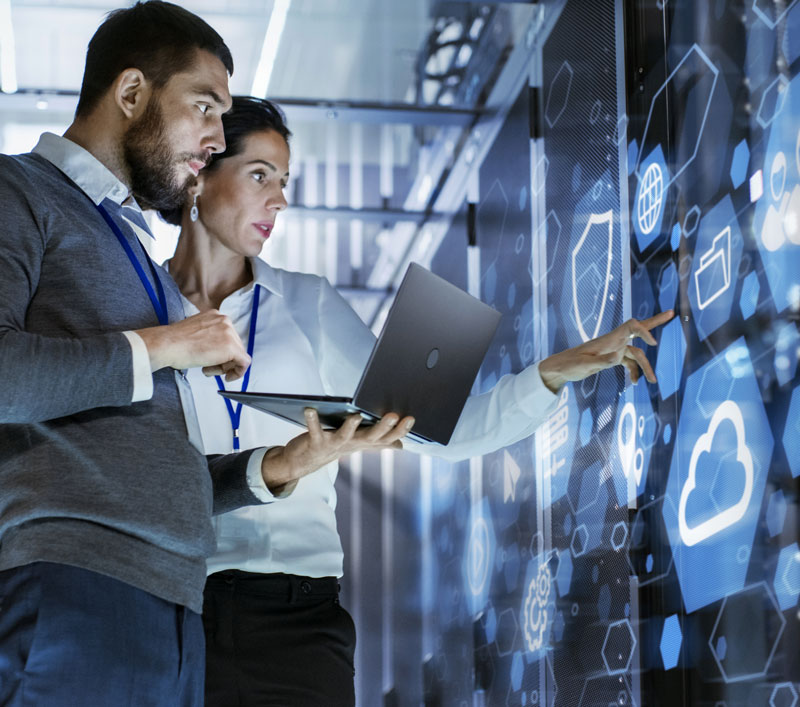 Cloud Computing and Healthcare
The hybrid cloud is a cloud computing infrastructure that utilizes both on-premises, private cloud environments and third-party, public cloud services. While healthcare has relied primarily on a cumbersome legacy network infrastructure, those overseeing the industry's dated systems are ready to migrate to a hybrid cloud solution.
What To Consider Before Moving to The Cloud
Cloud-Based Healthcare IT is Critical in the Age of Big Data
Security, privacy, and regulatory compliance are top priorities when considering a fresh cloud strategy. Embracing cloud environments is especially crucial for a sector currently experiencing an exponentially increasing volume of data.
With physicians, hospital administrators, and even patients demanding secure, cost-efficient information access, healthcare organizations are collecting vast amounts of data on their servers. These data needs – from patient admissions and diagnoses to online interactions with physicians – will only continue to grow in importance, requiring flexibility and augmented security measures to remain stable and safe.
As healthcare records are an attractive target for hackers, the need for improved cybersecurity measures has never been greater. Older systems are not nimble enough to address the newest threats from savvy cyber-criminals, meaning hospitals should treat security as a significant facet of their business continuity framework.
Align Your Cloud Strategy with Your Business Strategy
Your Cloud Infrastructure Options
Healthcare's cloud adoption is well underway, giving industry leaders much to consider when implementing potential cloud infrastructure options: 
Public

The most common type of cloud computing deployment, public clouds are Ideal for highly regulated and complex environments. Public clouds are fully managed and generally hosted in a top-tier facility, in your own facility, or a third-party data center.
Private
A private cloud consists of a fully redundant multi-tenant server and storage infrastructure. Private clouds are great for web-based applications, offering multiple connectivity and firewall security options.
Hybrid

Hybrid clouds are advantageous for organizations thanks to their combination of private, dedicated, and public clouds established in dynamic environments. Hybrid clouds can also be fully monitored and managed regardless of location.
Cloud computing needs from the healthcare industry drove $3.73 billion in healthcare spending on cloud services last year and will push that number nearly threefold to $9.48 billion by 2020.
Let Dynamic Help You Work Within Expanding Public and Private Hybrid Clouds
Dynamic Network Advisors can ease your transition into the hybrid cloud, making your organization more efficient while improving patient satisfaction and health outcomes. By keeping pace with demand in healthcare communications, future-focused health facilities will be able to meet the needs of patients and caregivers anytime, anywhere.
Hybrid solutions make it possible to manage changing compliance standards and storage demands, while at the same time staving off increasingly sophisticated cyber-attacks. Today's cloud is highly secure even for a historically regulation-bound sector, allowing healthcare IT experts to deploy the same security mechanisms they would in a traditional data center.
As hybrid cloud architectures integrate operations into a single ecosystem, previously siloed information – patient admissions, billing, laboratory orders, and more – is now being streamlined across departments. As a result, patient care is faster and easier than it would be using outdated and unscalable technology. An updated ecosystem of software makes it simple for IT teams to respond to bugs and roll out updates organization-wide.
Are you ready to implement technologies to improve the availability, performance, and scalability within a cloud infrastructure?