Pre-Deployment Network Assessment
Ensure your network is ready for a successful launch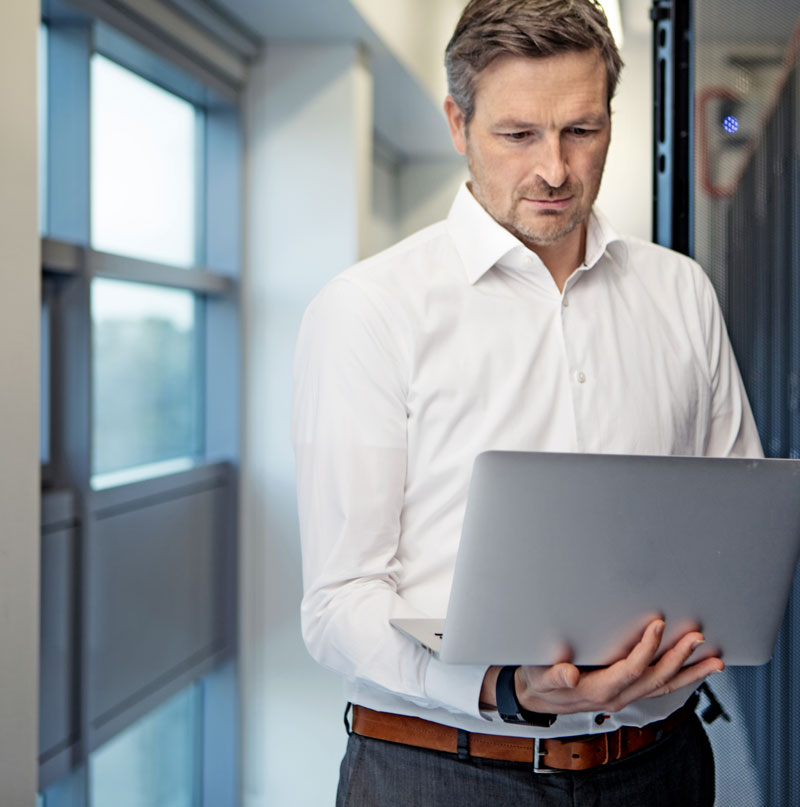 A comprehensive network assessment is crucial for Unified Communications deployments and upgrades
To stay competitive in today's digital landscape and provide a customer experience that customers expect, businesses and organizations are migrating and upgrading to unified communications solutions. The advantages of cloud services are undeniable, but what goes into a successful transition is often overlooked. Most organizations underestimate the impact of upgrades to their networks when adding VoIP and other IP-based services.
Why organizations should test and assess for network readiness
Before you can modernize your infrastructure and roll out IP-based applications, it's critical to thoroughly test and perform a network assessment. This is especially important if your IT team was not involved in designing or building out your current network. A comprehensive assessment is the only way to get clarity on what transitioning will entail and the true costs involved.
A network assessment gives you a clear picture of what it will take to get started with a unified communications implementation. Once you have a clear picture, you can move forward and make the informed decisions necessary to deploy performance-sensitive applications like VoIP, video conferencing, virtual desktop infrastructure (VDI), and everything else you need to stay competitive.
To ensure successful Unified Communications implementations, Dynamic's expert team can perform a network assessment through the lens of expected voice & data quality.
Pre-Deployment Readiness Assessment, Deployment, and Ongoing Maintenance and Monitoring
Whether your environment is on-premises, in the cloud, or a hybrid, Dynamic can help you understand your entire communications ecosystem, optimize the performance of the components that affect the user experience, and deliver the promise of true unified communications (UC). Our technology-agnostic service delivery platform ensures success in each phase of a UC project.
Analysis of current actual call volume data and trunk utilization
Maximize uptime, avoid waste with capacity planning, and optimize call routing. Call volume data and trunk analysis give you detailed information about the busiest times each trunk group experiences over any selected date or time range. Know how many calls travel over each trunk, how many calls are blocked because of high traffic volume, and how many channels you actually need to handle your traffic load efficiently.
Calculation of minimum, maximum, and average bandwidth requirements for your new IP system
Everything slows down when your bandwidth can't handle your network requirements. Employee productivity decreases, and your customer experience suffers. At the same time, you don't want to be paying for more than what you're using. Bandwidth analysis ensures that your network is always running at full speed and that you're not paying for what you don't need.
Test calls are analyzed for delay, jitter, and packet loss, and an overall MOS score is calculated
VoIP-related problems can occur in many places along a network path. For example, an employee accessing a file from a server can lead to a period of congestion lasting for a few seconds. This can result in short-term degradation in call quality for other users on the network. To avoid these kinds of issues, it's critical that test calls are analyzed for delay, jitter, and packet loss.
VoIP and video test calls to indicate if existing bandwidth and network equipment can handle expected VoIP traffic
Video conference calls have become the new normal as more and more companies rely on full or partial remote workforces. Lagging or frozen video calls hurt credibility and stop momentum with staff and client meetings. Once you adopt VoIP, you'll find out that your call quality is only as good as your internet connection. The more people that are using a VoIP phone service, the more bandwidth you need. VoIP and video test calls ensure that you always have enough bandwidth for seamless video conference calls.
Quality of service analysis
The amount of traffic on a network can lead to voice-related malfunctions due to a lack of quality of service (QoS) mechanisms or their inadequate or faulty configuration. Converged networks have both voice and data traffic sharing the same infrastructure. This may work fine until data applications and patterns begin to change on the network. The change can lead to delays in voice transmission, intermittent interruptions, jitter, and an overall decrease in call quality. QoS analysis determines if your network can handle both voice and data traffic using a converged network.
Define high-level VoIP requirements
Deploying VoIP is like putting together a jigsaw puzzle. In order for a successful outcome, you must have all the pieces in the right place. A number of variables, including patterns of traffic, usage, existing network capacity, bandwidth, and many other factors, go into determining your VoIP requirements. The first step to your transition is getting clarity on requirements and understanding precisely what your unique VoIP deployment will look like.
Monitoring your network can help save time and money. Read on to learn more about the benefits of network monitoring, and what to consider before adopting a solution.
Networks that can't handle the influx of connected medical devices, and devices that are not integrated into IT infrastructure properly, can cause functionality problems. More importantly, unsuccessful network connectivity can put patients in danger.
How VoIP is Transforming Healthcare Communication
Good communication drives all successful businesses and organizations, but especially for the healthcare industry. When patient health outcomes are at risk, health providers need to communicate seamlessly in real-time without fail or lag time. UC and voice over IP (VoIP) solutions benefit both doctor and patient communication by providing internal and external remote access to records, test results, and other critical time-sensitive information. Aside from enabling better patient-doctor communications, VoIP transforms healthcare staff communication systems in measurable ways.
VoIP-powered healthcare conferencing connects individuals regardless of device or global location. Physicians who are separated by states or continents can quickly connect and collaborate on time-sensitive emergency surgeries and other complicated procedures. Auto attendants take the burden off of customer care departments and ensure that incoming calls are received and routed quickly. Because VoIP is a fully digital infrastructure, it can be easily integrated within your existing computer network, eliminating the need for a costly or time-consuming installation.
Preparation is imperative when investing in a customized solution that meets your needs for voice, data, and network capabilities. Ask Dynamic for a Network Readiness Assessment today.