Healthcare Communications

HIPAA Compliant Healthcare Communications Technology Solutions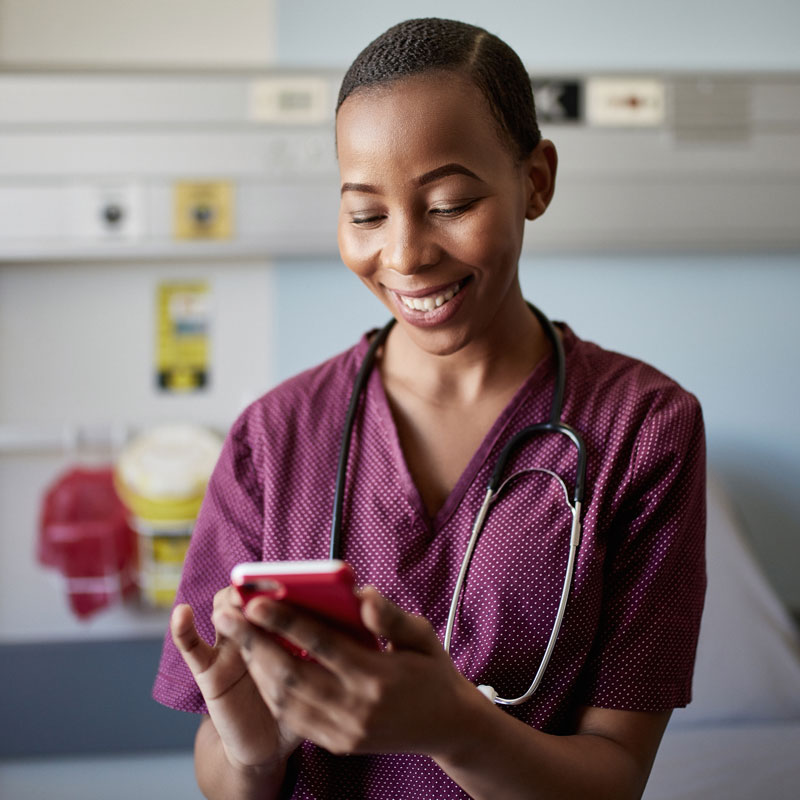 Empower your clinicians, care facilities, and remote workers with a secure healthcare communications platform that drives transformation
Nothing is more powerful than technology that connects care providers and patients. The right communication solution has the power to make any healthcare organization more efficient, increase patient satisfaction, and improve health outcomes. The faster healthcare teams can access patient data and seamlessly communicate with treatment staff the better chance they have for successful outcomes
Keeping pace with the demand in healthcare communications
As the demand for improved healthcare communication and collaboration grows, hospitals–both big and small–struggle to keep pace with purchasing decisions for emerging technologies. However, mid-size hospitals and small health facilities face an ever-widening gap in access to the technologies that are critical for making care safer and more efficient.
New technologies are becoming more complex and challenging to evaluate, and the impact on operating costs is particularly difficult. When stretched thin, CIO's are finding little time to research powerful and cost-saving solutions. As a result, hospitals either end up adopting technology too haphazardly or become generally slow to innovate.
Future-focused facilities needing temporary technology assistance look to Dynamic as that stop-gap. From cloud-based communications to contact center as a service, Dynamic partners with all of the major communication providers in the United States and around the world. Our relationships allow us to offer the best end-to-end solution for your facility size, needs, and budget.
Dynamic Healthcare Communications Solutions
Dynamic is securely connecting patients, caregivers, and healthcare facilities anytime, anywhere.
Unified Communications as a Service (UCaaS)
Implement a cloud-based phone system that allows the integration of smartphones and tablets and can be managed anywhere, anytime.
Contact Center as a Service
Offload your contact center and gain a scalable, pay as you go solution for inbound, outbound, blended, multichannel, and more.
SD-WAN
Simplify your healthcare network by replacing high-cost MPLS/private bandwidth with low-cost Internet connections.
Network and Connectivity
Transform your organization by securely connecting your patients, caregivers, and health facilities anytime, anywhere.
Network Readiness Assessment
Ensure a successful implementation with a pre-deployment analysis of your entire network and DNA's technology-agnostic service delivery platform.
Communication Partners
Take advantage of our partnerships with all major communication providers in the United States and around the world.
90% of hospitals surveyed are making significant enterprise-wide investments in Smartphones and secure mobile communications platforms to drive clinical transformation and address the mission- and patient-critical communications requirements of clinical and non-clinical mobile workers within the hospital and across the care continuum.
Streamlining a growing IT/Telecom operation
Operating a proper health communications system means relying on multiple telecom tools and technologies. When your patient population grows, so does your staff. More staff means more devices. As new technologies emerge, billing statements quickly become more complex and create a greater chance for costly errors.
Expense management becomes even more complicated as care teams are spread across multiple facilities. The time it takes to forensically review, audit, and dispute every carrier bill – month-in and month-out – quickly turns into a daunting task.
As a true healthcare communications partner, Dynamic can perform and streamline all IT/Telecom operations. We are an independent objective partner who will benchmark and review all contracts, rates, and terms and conditions. 
Discover how Dynamic can uncover a customized solution that meets your needs for voice, data, and network capabilities.