Data Center Services for Healthcare Organizations
With health systems generating more data each year, consolidating your data center resources is crucial for sustainable success.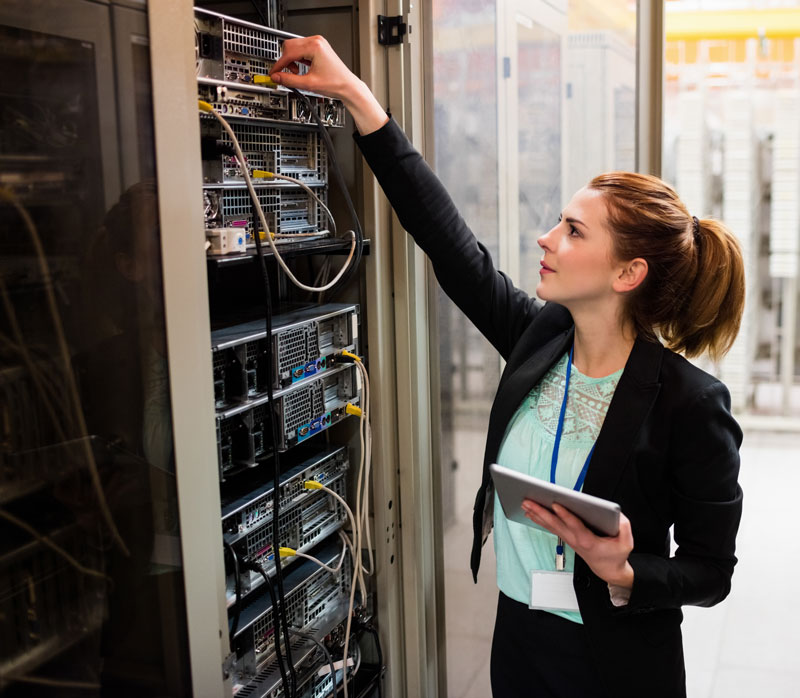 Building the Right Data Center for Your Health System's Needs
Data centers are a vital part of IT infrastructure across a variety of industries, including healthcare. With patients, employees, and partners dispersed across locations, healthcare organizations are questioning how to best maintain their digital networks. Whether health IT infrastructure is physical or cloud-based, you must build a network that can scale to match growing industry demands.
Meeting the Complex Demands of Data Center Consolidation
Healthcare IT infrastructure is subject to complex requirements, challenging providers to determine the best way forward when contemplating changes to their data center and cloud solutions. 
Due to widespread Electronic Health Record (EHR) implementation, the creation of a strong online platform is part of the mission statement for most healthcare providers. When linking digital platforms to EHRs and other foundational systems, industry leaders must also attend to Governance, Regulation, and Compliance (GRC) concerns. These include control of patient data and sharing of cleansed info with partner organizations.
As data centers utilize advanced analytics to reduce the length of patient stays, digital networks must be ready to provide data access to practitioners across every device. Ultimately, it's crucial to conduct a thorough infrastructure evaluation, whether refreshing hardware, deploying software, or integrating cloud-based applications and the Internet of Things (IoT).
Ready to update your  data center infrastructure anch achieve better performance?
Advantages of Data Center Consolidation
Data center consolidation is rapidly becoming an effective method of improving digital network efficiency. Cost reduction, agility, and upgraded security are just a few advantages of having a robust consolidation strategy:
Cost Reductions

Running a data center is expensive, particularly when updating an aging network with modern equipment. A consolidated environment allows for a simplified application infrastructure, minimizing costs for new hardware and servers.
Improved Security

Having fewer servers to operate reduces the number of access points in your organization's network, decreasing the risk of a potentially disastrous security breach.
Increased Control

A streamlined IT infrastructure makes it easier to control the flow of data into your system. An IT department that doesn't need to check multiple data centers at once can better deploy advanced management and protocol solutions.
Enhanced Agility

When your data is no longer stored in different facilities, the overall speed of your network is vastly improved.
Compliance

Consolidating your network allows you to perform advanced compliance functions from one location.
Spending on global data center infrastructure is projected to climb to $200 billion in 2021, up 6 percent from 2020, and will continue to grow year over year through 2024.
Invest in Your Organization's Future with Dynamic Data Centers Services
Dynamic Network Advisors is here to help organizations navigate the path to data center consolidation. This work is especially timely, as the healthcare industry is expected to spend close to $2.7 trillion annually on data centers and additional IT infrastructure in the coming years.
With routine storage of CT scans, MRIs, and other diagnostic images – not to mention the continued rollout of EHRs – the time is right for health systems to invest in a standardized and secure digital foundation. The need for enhanced information storage is further driving data center adoption among organizations realizing, perhaps more than ever, the benefits of modern digital innovation.
Data centers will only grow in importance as caregivers recognize the value of telemedicine in areas like mental health. With the rapid growth of remote care, the healthcare sector will need these data centers to ensure best practices in an ever-evolving privacy and security regulation environment. 
Should Hospitals Continue to Maintain Their Own Data Centers? Read the article by HealthTech.
Dynamic is strategically positioned with industry-leaders to offer premier data center services and help health organizations create their digital future.