Unified Communications in Healthcare
Improve Patient Outcomes with Unified Communications as a Service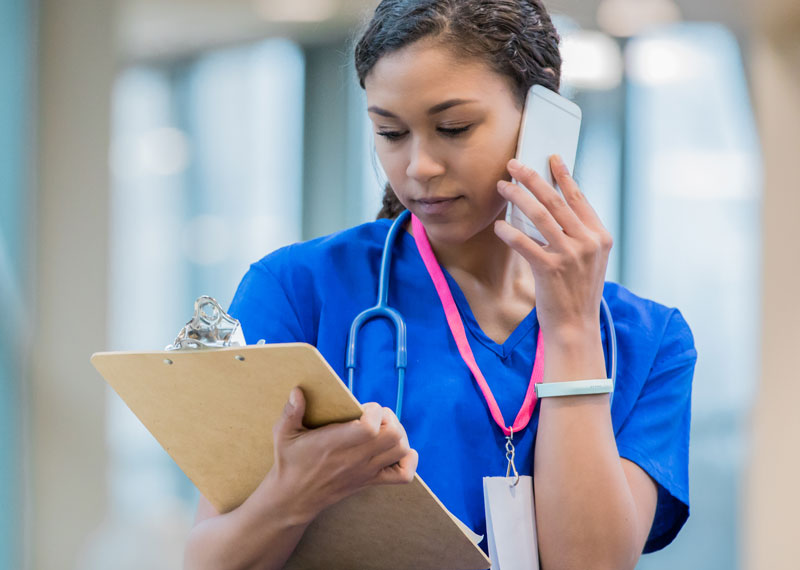 Unified communications as a service (UCaaS) is communication technology designed to transform employee collaboration. Think of it as a phone system that uses the internet to create a Cloud-based communication solution. It's scalable, secure, easy to implement, and requires none of the ongoing maintenance, equipment or hardware costs associated with legacy phone systems
Access Information on the Fly
When it comes to communications in healthcare, one of the biggest issues is the disconnect between devices. It seems that nearly every aspect of healthcare has been transformed by digital technology aside from clinical communications.
It's common to see nurses in hospitals across the country carrying three different communication devices on the hospital floor. Even more surprising is to find that none of the devices allow for electronic health record (EHR) access or real-time communication with physicians. The result of relying on legacy communication devices is delayed communications, poorer patient outcomes, and frustrated healthcare teams.
A patient's care journey will often see them travel through multiple departments in a hospital. Many of these departments use different communication technologies and rely on varying communication protocols. This disconnect creates communication silos that adversely affect the patient's healthcare journey and leaves medical teams unable to treat patients at a high level.
Streamlining critical healthcare communications with hosted UCaaS
Dynamic Network Advisors partnered with Granger Medical Clinic to improve the clinic's network connectivity design— leveraging software-defined area-wide network (SD-WAN) architecture to scale bandwidth cost-effectively across locations.
UCaaS Key Features and Benefits for Communication in Healthcare
Streamline Communication and Patient Services
Get real-time data across healthcare entities to streamline communication, close information gaps, and deliver better patient outcomes.
Employee Mobility
Today's healthcare teams are mobile – from doctors and nurses who spend their day on foot moving from room to room, to home health aides who spend their time traveling home to home. UCaaS empowers healthcare providers with the ability to use secure mobile devices to serve more patients faster and with more accuracy.
Scalability
UCaaS supports automatic updates, which allows organizations to always have access to the latest features and upgrades with little downtime while freeing internal IT teams to focus on mission critical tasks..
Security
Staying in compliance used to mean not using your smartphone on the hospital floor even though it was the most efficient way to communicate. Now with UCaaS, leading hospitals are empowering their staff with secure clinical communications that have the benefits of mobile devices without the risks.
Cost Savings
Move your voice investment from a capital expense to an operational expense. Replace your costly on-premises hardware, free up space, and start enjoying a predictable monthly cost for your hospital's communications.
Quick Installation
Your UCaaS provider makes installation and deployment fast and easy. A team of experts will implement a powerful unified communications solution and can train your IT and staff. Your provider will also offer managed services and upgrades when needed.
Seamless Integration
Unified communication tools can be designed to work hand in hand with nurse call systems, emergency paging, patient-record software, and any other platform designed for the healthcare industry. In addition, UCaaS provides a single source of communication for voice, video, email, messaging, and conferencing.
A study of 23,000 medical malpractice claims found 7,000 of them were the direct result of miscommunication or a lack of communication between professionals.
Integrating UCaaS results in better patient outcomes and fewer malpractice claims
Medical personnel have known for years how much more efficient communication would be if allowed to use their smartphones. However, they were restricted due to security risks and HIPAA laws that limit sensitive patient information from being shared electronically.
The biggest game-changer in patient-care today is that UCaaS technology is HIPPA compliant when deployed by the right provider. In a medical emergency, when the difference between life and death often comes down to seconds, a HIPAA compliant unified communication system is necessary to increase the speed and accuracy of treatment.
Partner with a proven UCaaS provider
Implementing UCaaS allows you to solve all your communication and collaboration needs with one vendor. Dynamic provides access to partners with proven communication portfolios that include VoIP, room-based video, mobile solutions, chat, messaging, web conferencing, audio conferencing, contact center solutions, and more.
Unified Communications will become more common in the next decade. To evaluate your readiness, and get your network in shape, contact your trusted technology advisor today.