Telecom Expense Management for Healthcare Providers
Get clarity, reduce costs, and take control of your telecom expenses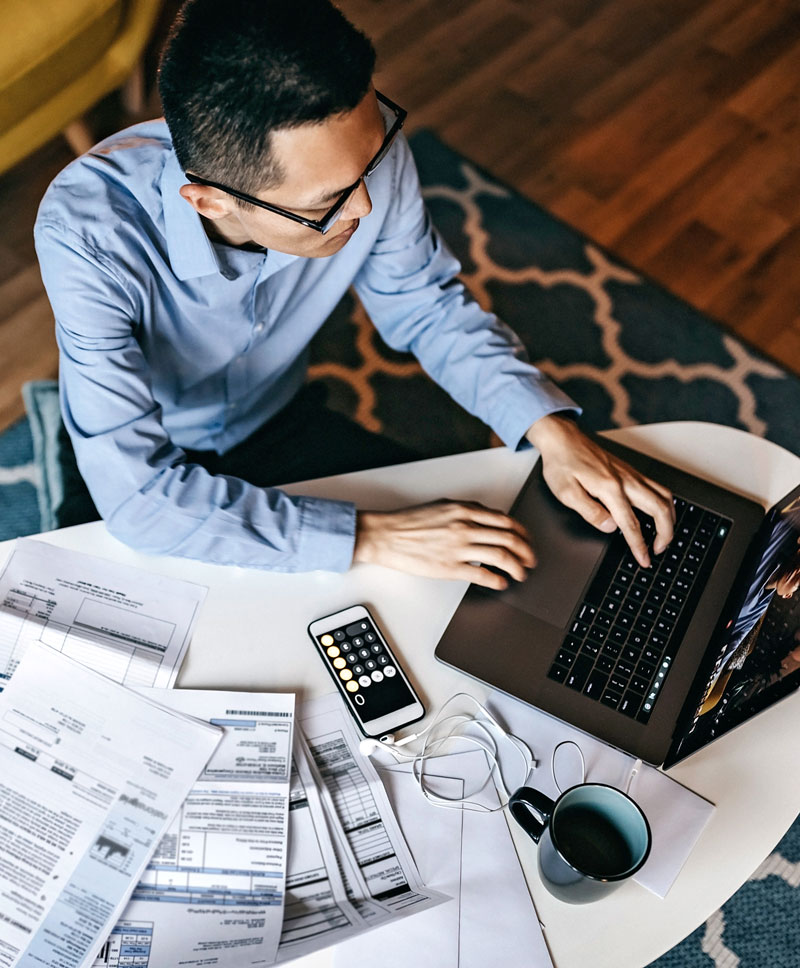 Take charge of your telecom charges
Healthcare organizations depend on multiple telecommunication services, including landlines, mobile devices, high-speed internet, maintenance agreements and IT infrastructure. All of these services come with monthly recurring charges (MRCs) that often result in organizations spending 10 to 25% more than necessary if not optimized and managed with a discerning eye. 
The reason so many healthcare organizations find themselves overpaying by such large margins is that they lack a centralized management structure or modern payment platform capable of handling the large number of monthly invoices that need to be managed. Processing thousands of invoices each month is a big challenge, let alone auditing them. 
Telecom expense management (TEM) was created to solve these issues for large organizations. Dynamic Network Advisors helps healthcare organizations get clarity on assets and services, gain visibility into monthly recurring fees, reduce waste, and generate cost savings.
Start paying for only what you need
Today's executives are in a constant battle to keep IT costs on-budget while adopting new and sophisticated IT solutions to enhance organizational communication and better serve customers.
The problem is, as your telecommunication needs grow, so do your connectivity charges. MRCs are a standard feature of telecom bills, but what they actually mean is often overlooked. It's clear that MRCs are service fees you're charged for, but what's not always clear is what services you're utilizing. Telecom providers typically bundle services together and provide customers with services they may or may not need. The outcome in most cases is organizations paying for bundled services that they never use. 
To make managing costs even more difficult, if you've ever examined your telecom bills to see a month-to-month difference in the amount billed, you're not alone. Often the differences are a result of overage charges, and these charges are untraceable, so remedying the inflated overcharge fees is a futile task. However, if you're like most large healthcare organizations, you're not even aware of the possible savings, and your telecom bills are paid in full every month without question or scrutiny.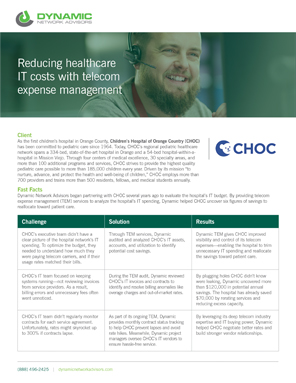 Reducing healthcare IT costs with telecom expense management
As the first children's hospital in Orange County, Children's Hospital of Orange Country (CHOC) has been committed to pediatric care since 1964. Today, CHOC's regional pediatric healthcare network spans a 334-bed, state-of-the-art hospital in Orange and a 54-bed hospital-within-a hospital in Mission Viejo. To learn more, download the case study
Three major benefits of telecom expense management
Tracking and reducing telecom costs can feel like an insurmountable task without the right tools and systems in place. However, when you partner with a dedicated team that specializes in expense management, you can quickly get clarity on what you need and what your invoices are telling you, allowing you to start driving down costs.
Discover and eliminate unauthorized charges
TEM experts implement a robust and easy-to-understand tracking and reporting system to quickly identify savings and eliminate fraudulent or unauthorized charges.
Get clarity on real usage

Get a clear window of visibility into where services are being used in your organization, which team members use them, and how much they cost.
Hold providers accountable
Regular audits and service inspections help you quickly recover funds by identifying external and internal errors.
Identifying savings from refunds and credits for billing errors can equate to up to a 15% savings, a reduction in future spending can total a maximum of 40% savings, while optimization activities can easily exceed 22% in savings.
Solving the four most significant TEM challenges
1. Validate Telecom Invoice Accuracy
Some enterprises set parameters on what errors on an invoice they'll investigate. A $5 error is easy to dismiss by itself, but when $5 errors run across millions of lines on thousands of bills and invoices, you're looking at errors that add up to millions of dollars in waste. An experienced TEM partner makes sure all errors are investigated and corrected.
2. Maintain an Accurate Telecom Service Inventory

The first step to reducing costs is having an accurate inventory of your services. So many organizations subscribe for services they rarely or never use. Your telecom service inventory will change as your needs change. A dedicated TEM partner makes sure you always know what you have, why you have it, and if there's a better or more practical solution available.
3. Accurate Organizational Chargeback Costs

Your IT department is focused on implementing and solving technical issues, not accounting. Your TEM partner will let your IT department know who requested what technology, how it's to be used, and in what capacity, so they can charge it back to the appropriate department.
4. Forecast Future Expenses
Accuracy in forecasting future expenses is dependent on having the ability to see what's coming. We can't predict the future with 100% accuracy, but having current data and analytics puts you in a position to make real-time adjustments with confidence and accuracy.
Why Choose Dynamic as your Telecom Expense Management Partner?
From taming the runaway costs of mobile technologies to working with carriers to ensure market floor rates, Dynamic's expertise will transform your global communications infrastructure and empower it with the ability to:
Establish and maintain an accurate service inventory
Acquire and validate global invoices
Manage contracts and rate plans
Audit invoices
Manage billing disputes
Dynamic provides a way for you to manage all of your communication expenses, so you can concentrate on important technology initiatives.